Moxa Introduces Easy-to-use IIoT Gateways That Simplify Remote Data Transfer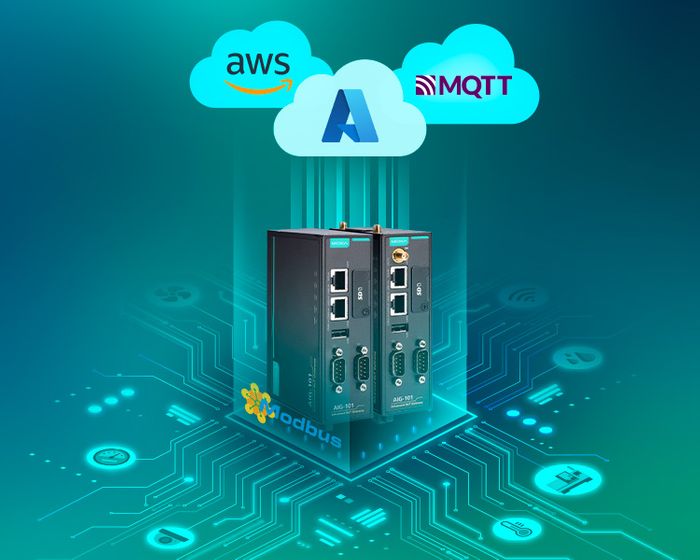 Best-in-class Gateways That Bridge the Gap Between OT and IT Systems
An unavoidable challenge in IIoT systems is that most edge devices are in remote, hard-to-access, and unmanned locations. It is critical for business owners to find ways to qualify and process data collected from remote sites to transmit to cloud applications so that the information can be used to manage assets and take precise and strategic business decisions. To close the gap and accelerate convergence of operational technology (OT) with information technology (IT), Moxa AIG-100 Series IIoT gateways, with features such as built-in traffic monitoring and diagnosis, can help monitor and troubleshoot communication issues for both IT (Azure, AWS, MQTT) and OT (Modbus) protocols. The AIG-100 Series IIoT gateways come with a provisioning tool and device management service for business owners to easily install and manage the gateways remotely, thereby greatly reducing downtime and increasing operational efficiency.
Go From Complex Configurations to Ready OT Data in Just a Few Clicks
To collect data for IIoT applications, it is important to have an easy-to-use and efficient solution. The AIG-100 is seamless integrated with Moxa UPort and ioLogik devices to realize plug-and-play like installation for I/O and serial expansion, eliminating complex driver installation and setup processes. Furthermore, the AIG-100 provides no-code data processing to help users easily process OT data using an intuitive UI without requiring additional programming efforts.
AIG-100 Series Highlights
Supports data conversion/transfer from Modbus TCP/RTU to Azure, AWS, and MQTT cloud
Built-in network traffic monitoring and diagnostic tool for easy troubleshooting
Supports store and forward and datalogger functions to prevent data loss
Seamless integration with Moxa ioLogik and UPort devices to easily extend I/O and serial interfaces
Built-in data processing function to eliminate programming efforts
To learn more about Moxa's AIG-100 Series IIoT gateways, visit the product page: https://www.moxa.com/en/products/industrial-computing/arm-based-computers/aig-100-series