17 Apr 2023
Zeppelin Power Systems informs about digitalization and decarbonization at Data Centre World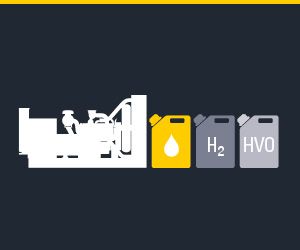 From May 10 to 11, 2023, Zeppelin Power Systems will be presenting solutions for decarbonization and digitalization at Data Centre World in Frankfurt in hall 8, booth D085. The company will provide advice on the use of renewable liquid fuels as well as on the resource-efficient generation of thermal heat by using low-temperature exhaust heat by means of heat pump concepts. In addition, the team of experts on site will provide information on customized hardware and software as well as the digital solution Active Equipment Connect (AEC).
Lower fuel emissions through renewable liquid fuels
The use of alternative fuels such as hydrogenated vegetable oil (HVO) and green hydrogen (H2) makes an important contribution to sustainable power and heat generation. Compared to conventional diesel fuel, biofuels such as HVO lead to a reduction in greenhouse gas emissions over the entire life cycle. Many Cat brand engines are already 100% runable on HVO. The flexible use of hydrogen as an easily transportable energy medium makes the fuel a climate-friendly alternative.
Comprehensive solution for the acquisition and digitization of engine data
With customized products and services, Zeppelin Power Systems supports its customers in making the operation of their engines and systems more efficient and safer. The Active Equipment Connect (AEC) solution developed in-house makes it possible to connect engines and systems regardless of manufacturer, to record data around the clock, and to view and evaluate this data as required. The range of services extends from the simple provision of data via an interface and individualized reports in a customizable web portal to 24/7 monitoring, consulting and services. In Zeppelin Power Systems' Fleet Operations Center (FOC), employees can analyze the data, create trend analyses and make recommendations for action. They can detect deviations of certain parameters from their normal value at a very early stage, ideally taking preventive action and avoiding failures. This makes it possible to monitor engines, applications and entire fleets remotely, schedule maintenance as best as possible and coordinate the supply of spare parts.
About Zeppelin Power Systems
Zeppelin Power Systems is the official partner of Caterpillar for Cat and MaK engines and a leading provider of drive, propulsion, traction and energy systems and has been partnering with Caterpillar for more than 70 years. With over 1,000 employees, Zeppelin Power Systems offers its customers individual, highly efficient system solutions with comprehensive services for industrial and marine applications, the oil and gas industry, rail vehicles and power generation. Digital products for all segments as well as system components and solutions for ballast water treatment complete the portfolio.
About the Zeppelin Group
The Zeppelin Group offers solutions in the construction industry, drive and energy systems, engineering and plant engineering. The Group provides customers with expertise in a number of areas, from the distribution and service of construction, mining, forestry and agricultural machinery, through rental and project solutions for the construction sector and industry as a whole, to drive and energy systems as well as engineering and plant engineering and enhances its offering with digital capabilities in all areas. Zeppelin is represented at more than 340 sites in 26 countries and regions worldwide. In the 2022 financial year, the Group workforce comprised almost 10,000 employees, which generated sales of EUR 3.8 billion. The Group organizes its activities into six strategic business units (Construction Equipment Central Europe, Construction Equipment Nordics, Construction Equipment Eurasia, Rental, Power Systems, and Plant Engineering) and the Zeppelin Digit Strategic Management Center. Zeppelin GmbH is the Group holding company. It is legally domiciled in Friedrichshafen and has its head office in Garching near Munich. The Zeppelin Group is a foundation-owned company. Its roots can be traced back to the establishment of the Zeppelin Foundation by Graf Ferdinand von Zeppelin in 1908. For more information, visit zeppelin.com.