Specifically for data center: High-performance energy system including battery and stacking system from HOPPECKE is the answer to current and future market trends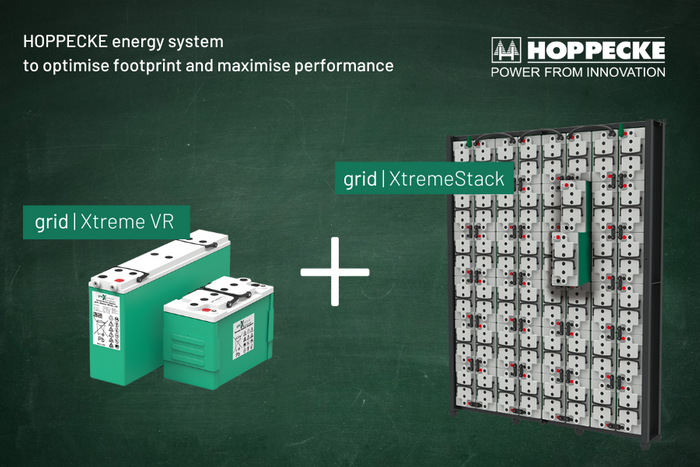 With the further development of its pure lead AGM technology and a newly designed rack, HOPPECKE has once again shown that it is necessary to actively break new ground to find optimum solutions for the rapidly changing needs of its customers.
Through intensive development work and uncompromising optimization, HOPPPECKE has succeeded in impressively mastering the challenges of urbanization, energy transition, digitization and electromobility.
A steadily growing share of renewable energies and the resulting fluctuating energy sources show that we will have to reckon with strongly fluctuating power grid quality in Europe in the future.
Lack of space is a common challenge for data center operators. That´s why the new HOPPECKE batterie system – consisting of grid | Xtreme VR batteries and grid | XtremeStack rack – keeps space requirements low.
grid | Xtreme VR:
grid | Xtreme VR battery is a maintenance-free, pure lead battery with the highest state of development in AGM technology. With the thin-plate pure lead technology, grid | Xtreme VR requires less space, which has a positive effect on investment costs at the current high-cost level for real estate or technical infrastructure.
The technology is based on maximizing the number of electrodes installed, which increases the electrochemical reaction area. This results in greater energy and power density. The air-conditioning costs at the battery installation site are also minimized, as these batteries can be used at higher temperatures compared to classic AGM batteries without a reduction in their life span.
grid | XtremeStack:
Together with the fitting grid | XtremeStack it´s the ideal solution for data center to optimise footprint and maximise performance.
The modular and expandable grid | XtremeStack stacking solution is particularly known for its minimal footprint. Compared to conventional battery racks, batteries in the new grid | XtremeStack are installed horizontally and without gaps. This unique arrangement has several advantages: The modular approach ensures optimal maintenance, scalability and flexibility.
Ideal for applications where space is limited and expensive. And best of all: it is immediately available!