21 Apr 2023
Aggreko to Offer Deep Dive on Latest Report at Data Centre World 2023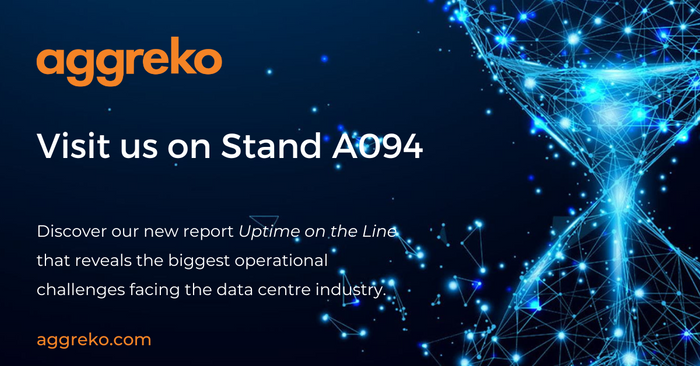 Off the back of the company's latest research report, Uptime on the Line, Aggreko will be attending Data Centre World in Frankfurt to advise on the tactical and strategic options available to solve the challenges facing the European data centre market.
The report surveyed 700 data centre professionals consulting for large businesses in the UK, Ireland, Germany, France, the Netherlands, Norway and Sweden. It revealed grid power, outages related to ageing equipment, demand-side response (DSR) and temperature demands as key areas of concern for data centres, and highlighted the tactical and strategic approaches available to solve these long-term challenges.
Lloyd Freitag, Sector Sales Team Leader Data Centres Europe at Aggreko, who will be available for discussion in Frankfurt next month, said: "While there are obvious concerns across the sector, there are methods that can be implemented to provide short and long-term solutions to help data centres strike the balance between efficiency, power and sustainability. We're keen to discuss the themes highlighted in the report in person with data centre professionals from across Europe, in order to help signpost the way forward for the sector."
With the event set to take place in Germany, Aggreko is keen to address the challenges affecting the local data centre market. Namely, Reuters[1] recently reported that the German grid's transition to low-carbon would cost €128.3 billion. Reponses to Aggreko's report chime with this, with just under 40% of German respondents expressing a lack of confidence in government to support the uptake of renewables in data centres.
Uptime on the Line highlights green energy solutions as a key strategic option in alleviating outages related to ageing equipment. Just last month, Aggreko announced it would invest £150 million in its European fleet this year. Most of this investment is centred on the business's ongoing Greener Upgrades business strategy, comprising new boilers, Stage V generators, batteries and chillers.
Uptime on the Line, which looks at the operational challenges businesses face today, is the first in a two-part series on European data centres. The second report, to be released imminently, will examine issues relating to constructing new data centres.
Christoph Kuenzel and Paul Langeweg, Data Centre Sector Account Specialists, will join Lloyd to advise on the tactical and strategic solutions available to operators, alongside Greger Ruud and John Fraser, Sector Development Managers for Nordic Data Centres at Aggreko.
The team will be available on Stand A094 at Data Centre World 2023, which takes place at Messe Frankfurt on 10 and 11 May.
To download Aggreko's latest report, Uptime on the Line, visit:
https://www.aggreko.com/en-gb/sectors-and-services/data-centres/uptime-on-the-line
---
[1] https://www.reuters.com/business/sustainable-business/german-power-grid-firms-list-costs-meet-zero-carbon-targets-2023-03-24/
---
For more information, please contact aggreko@wpragency.co.uk